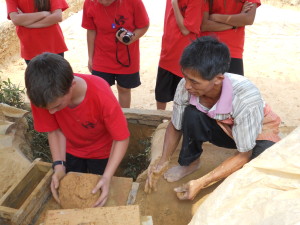 Imagine standing in a waist-deep hole, muscling red clay into wooden forms to make bricks. That's what the brickmaker in Guangdong Province was doing, in 90 degree heat, with 90% humidity, when we swooped in upon him, all ten of us in our bright-red t-shirts, Americans cycling around rural China.
Of the dozens of Chinese people we talked to perhaps the brickmaker moved me the most.  He beamed when we descended upon him. Snow, our twenty-six year old translator, explained that the students had come from America to learn about China and would like to speak to him.
He has been making bricks since he was 12, he told us. He is now 44. He does not own the clay pit; his job is to make 1,000 bricks a day.  He works 364 days a year, with time off for the Spring Festival.
These facts, on their face, appall. Yet the man contravened the facts.
He was dressed in a clean, attractive polo shirt and a gingham work apron. His bricks were stacked with an engineer's precision, in perfectly straight, uniform rows. And he welcomed us with bright eyes and enthusiastic delight.
He invited each student to step down into the clay pit and taught them how to make bricks.  Sweep some red clay out from under the plastic tarp. Roll and shape it into a loaf-shaped bundle. Drop it into the wooden form and firmly press it into place. There must be no air bubbles, no unevenness.  As he demonstrated, the muscles on his ropey forearms stood out like gnarled tree roots.
He has a child, a fourteen year old daughter. She was at school, he told us proudly.
As the brickmaker worked with each student, the adult chaperones conferred on the sidelines. We were taking so much of his time! This generous man, so patient with our students, so calmly instructing them in his craft, what could we do for him? He had 1,000 bricks to make that day!
After he had spent almost an hour with us, we heartily thanked him and almost apologetically offered him some yuan, probably amounting to about $10.
He would not accept our money. It had been his pleasure to teach the American children how to make bricks.  But, he sheepishly said, he had never seen American money. Did we have a small bill?
We gave him $1. He studied it. He would show his family, he said. This was a treasure. He would keep it forever to remember the day the Americans visited him.
Fortunately, I also had some small gifts in my backpack, including a pencil case with a dozen new yellow pencils and an eraser and sharpener. "For your daughter," I said, opening the case and showing him the contents before handing it to him. His eyes widened. He held the case in both hands, grinning.
"Thank you. Thank you," we exclaimed. "Xie. Xie." Waving, we headed back to our bicycles. Our next stop was the village school, where perhaps we encountered his daughter, one of hundreds of earnest children in aqua blue and white uniforms, studying as if their lives depended on it.