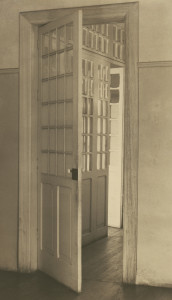 Last Friday I went to a retirement dinner for a senior manager at BMD, a building materials distribution company. I didn't expect to be moved or inspired, but I was.
BMD is located in Galt, California. They're one of the major employers in town, which is significant, especially given the Central Valley's current unemployment rate of 10-13%.
The retirement event was held at Brewsters, in a room with lovely old punched tin ceiling. Refreshments consisted of shrimp cocktail, cheese cubes, meatballs, carrot sticks, and pita bread with hummus. There was a cash bar. 
So the event was not glamorous. BMD is not glamorous. Mike, in fact, is not glamorous. He's balding, with a professorial air, especially when he pushes his glasses up on his forehead and pulses his fingers together in his characteristic "spider dance." 
And, to tell you the truth, at the beginning, before the speeches, I was wondering mostly about dinner; namely, should I fill up on meatballs and carrots or would we be going out to eat later.
But I was hooked once the stories started.  Mike's letter requesting an interview was flashed on a screen. Chuckles erupted at the quaint sight of a letter written on a typewriter.  Then the CFO engaged the crowd in a How Well Do You Know Mike game, with categories including music, cars, sports, and trivia.
It was fun, but the emotion started to kick in with the next speaker, who clutched a fistful of blue index cards. She'd started with BMD at 17 as a very junior accounting clerk, counting pallets and boxes in the warehouse.  She trained Mike in windows, she said proudly.
Mike became her mentor and champion. She described her early days in sales, calling him after a "customer beat down," and bawling her eyes out. "Never forget," Mike said after hearing her out, "It's just windows and doors."  
Mike's ability to listen, to connect, was legendary. A sales manager described his introduction to Mike 20 years earlier. He'd gotten off a roof at a construction site, shaken the dirt out of his hair, and raced to a job interview, hoping he didn't smell too bad as he put on a white shirt in the BMD parking lot. The interviewer had liked his technical knowledge but doubted his people skills. As a concession, she'd asked Mike, then sales manager, to talk to the kid for ten minutes. "Mike spent more than an hour with me," he said. "I drove away not knowing if I had a job, but at least knowing I'd had a great conversation with a great man."
Another speaker described Mike's wisdom as life-changing. "I was a Jersey kid, having a tough time, going through a divorce.  I needed a change. And Mike said he needed me on the West Coast.  Mike met me at the Oakland airport. He got me through the rough patches. I got a happy marriage now and four kids. I tell my kids they're here because of Mike."
Don't get the idea that Mike was a feel-good, softie though. The work mattered. We're not just selling windows and doors, he frequently said, we're helping build people's homes. He had high expectations. His constant refrains. Make the customer happy. Do it right. If you don't do it right, make it right.
You didn't want to get called into his office and see him leaning back, fingers doing the spider dance, a sales rep said. And then if he said, "What? No letters? No cards?" you knew you were in trouble. Probably you'd had some kind of problem you hadn't taken care of.
Mike did not single-handedly create a work culture based on integrity and respect. He was hired into a company where those values were already in place. Over the past 30 years, BMD has been carefully bought out from the original family owners and is now an employee-owned company, where every single employee has a stake in the business.
Three generations of management showed up at the retirement dinner. One of the most startling stories of the evening was told by the recently retired company president. During a serious down turn in the building industry, BMD was facing a financial crisis. It was at a pivot point and needed a loan, but the bank required more collateral than the company possessed. Three key players, including Mike, put up their personal homes as collateral. BMD got the loan, survived the crisis, and is now thriving.
I'm sure Mike will thrive too, in his next career as a walnut farmer. He'll also continue to be part of  BMD since he's been invited to join the board.
The image above is Tina Modotti's, No. 3, 1925, courtesy of the Getty Museum's Open Content program.